The Group considers sustainability as a key element of its mission to "Build a Better Myanmar for Its People". The Group's mission and targets are closely aligned to its Sustainability & Responsibility ("S&R") strategy, enabling greater value to be created for its stakeholders with a focus on the highest standards of governance, ethics, sustainability and responsibility.
The Group's sustainability efforts are structured around the Sustainable Development Goals ("SDGs") of the UN Global Compact ("UNGC") framework and its sustainability objectives are organised around People, Planet and Profit.
The Group's Corporate Social Responsibility ("CSR") is committed to contribute to Myanmar's development and drive positive change to the communities in which we operate. The Group's CSR activities focus on three pillars- education, healthcare and community.
Education
Healthcare
Community
Education
Jump!Beam Youth Development Program – In collaboration with international NGO Jump and Thai-based, Myanmar focused NGO Beam, The Group has been involved in setting up workshops for 150 Young people nationwide to teach essential business and entrepreneurial.
Step-in Step-up Program – The Group supports Step-in Step-up, a Vocational Training Association based in Hlaing Thar Yar Township. Step-in Step-up's primary focus is on making a difference to the lives of the young and vulnerable.
With its livelihood tailored training, Step-in Step-up focuses on preparing local youth for entry level jobs. To date, Step-in Step- up as delivered and sourced employment for over 200 men and women from the age of 18 and up. Of that number, up to 93% of the candidates who completed the training to date have been successful in securing long term employment. Up to 85% of the graduates continue to maintain their position up to 12 months later. Finally, 6% of the candidates have been inspired to return to school or embark on a course to further their education.
During their training, Step-in Step-up interns work in the important frontline positions at Pun Hlaing Hospital, F&B and Housekeeping at Awei Metta and Pun Hlaing Estate. Interns also volunteered at the quarantine centres within Daing Su and Nyaung Villages.
Fund Raising from Yoma Yangon International Marathon – To support the Myanmar Sustainable Development Plan, a portion of the proceeds from Yoma Yangon International Marathon was donated to the Ministry of Health and Sports – Institute of Sports and Physical Education. The fund will go directly towards programs to help uplift the quality of sports education in Myanmar.
In addition to the above educational work, the Group donates meals, school supplies and routinely repairs schools in Kempyo, Thanlyin, Toontay, Htauk Kyant, Rakhine state, Moe Kaung as well as West Yangon Technological University and Victory Blind School.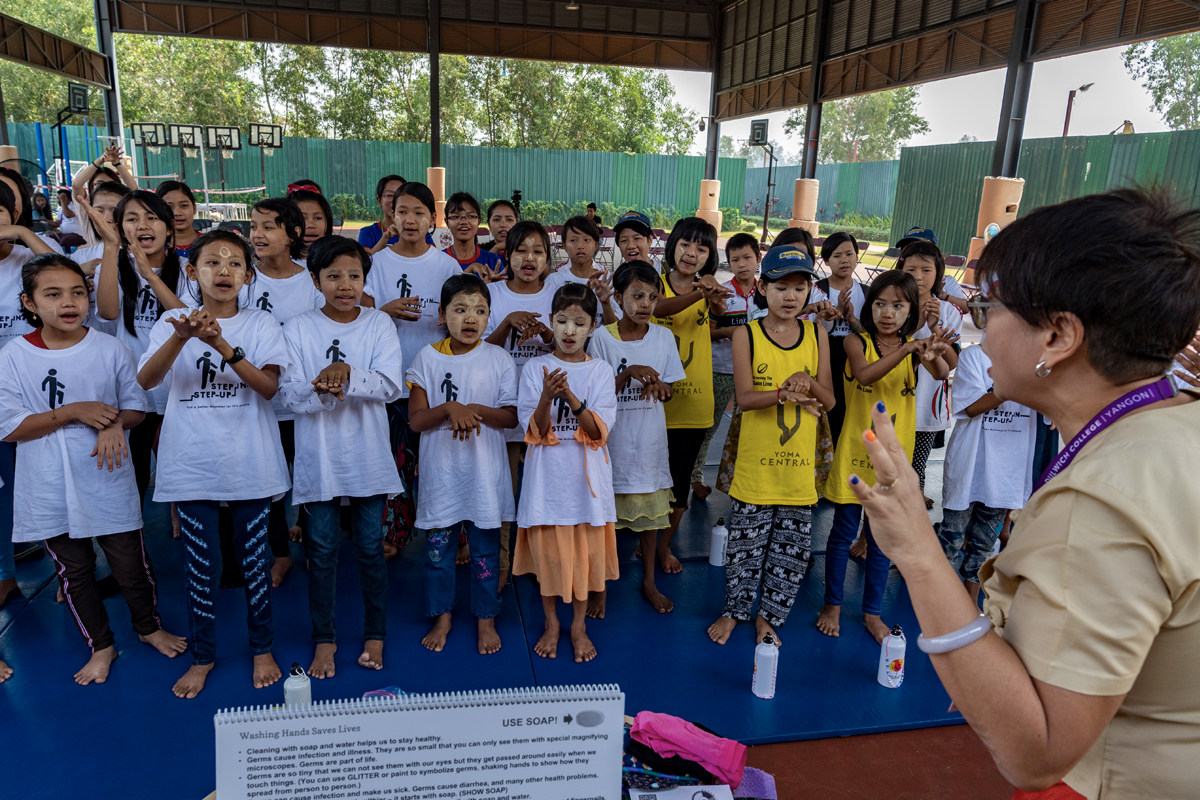 Healthcare
Community